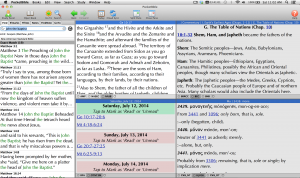 It's been a while since I updated you on our progress on PocketBible for Mac OS X. I've been doing more frequent updates for our Kickstarter backers but not as many general posts here. So below is a video update that demonstrates most of the features of PocketBible for Mac. The video is rather long but it covers a lot of ground.
Even though I say in the video that I'm going to show you "everything that's implemented", I don't. But I do show a lot of features. In particular, here are a few things I didn't demonstrate:
You can change the screen layout to choose from a variety of predefined configurations of panes instead of creating/closing panes one at a time.
I've demonstrated searching before so I don't show all those features. However, since you last saw it I added the ability to limit searches to predefined ranges of verses, like "New Testament", "Pentateuch", etc.
You can find everywhere that a verse is cross-referenced in a book by doing a search for the reference.
If you enter "John 3:16″ in the Find field (that is, not the Go To field) while a Bible is active, the program will treat it as a "go to" operation and take you to that verse. Similarly, searching for a word in a dictionary will instantly go to the entry for that word if there is one.
I didn't demonstrate how you create bookmark categories or create a bookmark in a category, but you can do that.
I didn't show how you set "preferred books" that get used in certain situations where the program has to choose which of your Bibles to open.
The Help button opens the PocketBible User Guide in the active pane.
I think that's about it. There are a few Advanced Feature Set features already coded, but I have those disabled unless you actually own the Advanced Feature Set, and of course nobody owns the Advanced Feature Set yet except me. I'll start implementing and exposing more of those during the beta period.
We're currently in beta with a limited number of testers. I'll be opening the beta up to more testers once we get past the unavoidable initial rounds of bugs. No need to "apply" or to tell me you want to be a beta testers — I'll post a call for testers here when I'm ready.