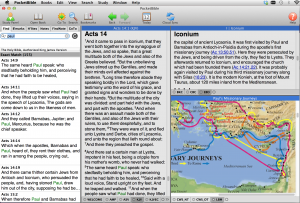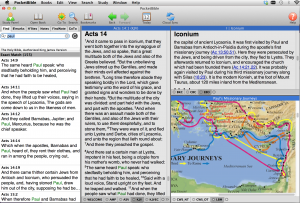 Christian Computing Magazine has published a review of PocketBible for Mac OS X, calling it "one of the fastest and most Mac-like Bible apps available".
You can read the full review here.
Among other compliments, reviewer Kevin Purcell called PocketBible, "…a simple to use, speedy way to quickly look up verses, search for that passage you're trying to find and access your PocketBible books. Most lay Bible students will really enjoy PocketBible and more advanced students should consider adding it to their arsenal for those times they want to quickly find something in the Bible."
Kevin's review does a pretty good job of covering a wide range of features in the program and overall has a positive impression of the program. He does raise a number of points that he sees as weaknesses of the program, which I'd like to acknowledge and adress. These fall into three categories:
Features That Are Already in the Program
Kevin would like to use ⌘-W to close a pane in PocketBible. The problem is that ⌘-W actually means "close the active window" in OS X. PocketBible has exactly one window, so closing that window is equivalent to closing the program. In order to keep the user from inadvertently exiting the program, we disabled this feature. The good news is that all shortcut keys are reconfigurable in all apps in OS X. So if you'd like ⌘-W to close the active pane in PocketBible, just go to System Preferences in the Apple menu, choose the Keyboard preference pane, choose Keyboard Shortcuts, choose Application Shortcuts, add PocketBible, and add (or change) any shortcut for any function in PocketBible to use whatever key you would like.
One of the challenges we face on every platform is deciding how to use limited user interface real estate. In particular, the toolbar. Depending on the size of your screen and the width of the window in which you choose to run PocketBible, you may only have room for a half-dozen toolbar buttons. Since everyone uses PocketBible differently, we put what we thought were the essential features on the toolbar by default, and provide a way that you can customize the toolbar to match the way you use the program. Kevin disagrees with the buttons that are there by default. The ones he wants to add are not ones that I would want to take up space for. And I'm sure the configuration of toolbar buttons you prefer would not satisfy either one of us. So we make it customizable, just as you'll find in most other Mac apps.
One of the features mentioned in the review that is at least partially implemented in the current version of PocketBible (with more coming soon in the Advanced Feature Set) is the ability to see where a verse is discussed in a particular reference book. PocketBible allows you to enter a verse reference in its search field and see everywhere that verse is referenced in the current book or Bible. This feature of the search pane wasn't mentioned in the review.
Features That Are Coming Soon
Several users, including Kevin, have asked for a "download all books" button. We've resisted that because we provide every user with a large number of free Bibles and reference books that most people won't want cluttering their library. But it's simple enough to do, so we've already added that feature. You'll see it in the next update to the program.
Features That Will Be Part of the Advanced Feature Set
As we've discussed in the past and  announced during the Kickstarter crowd-funding campaign that launched PocketBible for Mac, we intend to produce an "Advanced Feature Set" add-on for PocketBible that will enable additional features in the program. We already do this for iOS, Windows Store, and Windows Phone. We're working on it for Android and Mac, where it is currently in the hands of our beta testers.
The review mentions the fact that you can't save your screen layout. That is, if you have several different screen configurations you'd like to use depending on what you're doing at any given time, you have to completely reconfigure the layout from scratch each time. The free version of PocketBible offers a lot of options for adding and configuring panes so that you have a lot of flexibility for laying out the screen the way you want it. But if you want to save those configurations, you'll need the Advanced Feature Set. It will allow you to create multiple, named, tabbed layouts. These can be created, deleted, renamed, and rearranged to meet your needs.
Kevin also mentions the need for a feature that would show you everything all the books in your library have to say about a particular verse. We'll be addressing that in two ways. First, the Advanced Feature Set will contain a Library Search pane that will let you not only search your entire library for a given word or phrase, but also for a given verse. So you'll be able to see which commentaries contain a discussion of a given passage, then quickly link there to read more.
In addition to Library Search, the Advanced Feature Set will contain an updated version of Autostudy from PocketBible for iOS. This feature lets you automatically create a document containing everything your library has to say about a given word or verse. Autostudy documents can be viewed inside PocketBible but can also be printed, saved as PDF, or saved as an HTML file that can be opened in your browser or word processor.
Conclusions
We're pretty pleased with this review. We feel like we either have already addressed or will very shortly be addressing every shortcoming Kevin mentioned. Kevin accurately describes PocketBible for OS X as "lightning fast and simple to master", which is exactly what we were going for. If you want to follow Kevin's advice to "drop everything and download PocketBible for Mac" you can do so here!