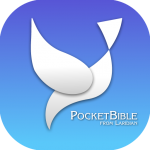 I'm looking to increase the number of  testers we have working on PocketBible for iOS.
PocketBible version 4 is still in what we might call "alpha" stage, where it is ready for some outside testers but is not feature-complete. This new version is a significant re-write of the currently shipping 3.4.0. New features have been added and existing features have been re-implemented in completely different ways. The most significant of these is the way text is displayed and scrolled. The touch zones are gone (for the most part), the text can now be continuously scrolled (rather than paged), and text selection is different.
Here's the list of what's new so far:
Continuously scrolling book text. Uses the built-in webkit HTML rendering engine for books instead of our custom HTML renderer.
Text selection works differently. Press-and-hold to select a verse (Bibles) or paragraph (other books). Selection toolbar is displayed in place of the old built-in iOS menubar. Tap to select additional verses/paragraphs.
Changed order of highlight colors on the list of colors so that your three most recently used colors are at the top. Moved the highlight eraser to the top of the list of colors (after the most recently used) so that it is easier to find.
Added the ability to search notes to the iPhone. Previously only available on iPad.
New WYSIWYG note editor replaces the need to type HTML tags to get text and paragraph styles. Notes are still in HTML and you can still edit the text directly to insert tags, but that is all manual now.
When viewing an image in full-screen mode (double-tap on an image in a book), the app may download a higher resolution version from our website if one is available.
Added the option of textured backgrounds.
All new button images (toolbars, etc.) throughout.
New font/size picker uses the "spinner" control instead of a "slider". Significantly easier to use.
In addition, there are a few smaller changes, some of which are removal of little features that are less convenient given the new way of displaying the text, while others are user interface enhancements:
New launch image background color.
"Split Screen" on iPhone without Advanced Feature Set is now just a toggle. Screen is either split (two panes) or not (one pane). Used to show you a list containing "1" and "2" from which you could choose.
When selecting number of panes, the current number of panes is indicated (previously you just saw a list of numbers).
Got rid of the brightness control. iOS does a better job of this than we can do, so just use the system screen brightness.
Title bar and tool bar are always visible since there is no longer a way to display them on request (i.e. no touch zones).
Images are always shrunken to fit the width of the pane.
iPad Toolbox expansion arrow now floats over the pane so that it is always visible even when keyboard is present.
Removed the "HTML helpers" from the plain-text note editor. Use the WYSIWYG ("rich edit") note editor instead.
This is just where we are as of today. We are still adding features. I'd just like to get a few more people looking at the program as we go.
The alpha version (currently designated 3.9.x) installs alongside the currently shipping version so that it won't interfere with your current working verson of PocketBible. You can create a new customer account when you register the alpha version if you don't want to expose your "real" notes/highlights/bookmarks to the testing process.
We have some very specific rules for signing up to test. If you don't follow these instructions I will discard your application.
You need to be able to accurately find and send me your "unique device ID" (UDID). Note that there are old utilities for doing this that will give you a wrong result. If it starts with "ffff", it's wrong. Here's a simple explanation of how to find it using iTunes, along with a Web-based tool that works well if you want to try that instead: whatsmyudid.com
Tell me what version of iOS you're using and what kind device you have. You must be running iOS 8 or later.
Send this info to beta@laridian.com with the subject line "iOS Beta". You should also use this email address if you use whatsmyudid.com to send your UDID.
I will try to respond to each person who applies. Apple limits the number of testers we can have, so I may have to reject some of you. Or I might not. That UDID thing tends to eliminate a lot of people, so we may not get many volunteers. 🙂
If you've been testing with us over the last few months already, there's no need to re-apply.
I will pull this article when I get enough testers, so if this article disappears, we're full.
Thanks for your help!