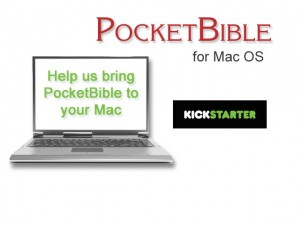 PocketBible for Mac OS X is moving right along. Last month I published a simplified version of my to-do list so I thought I'd update that list and let you know how it's going.
If you're a Kickstarter backer of this project, you've been getting regular video updates from me. One went out last night. If you're not getting these updates, check your settings at Kickstarter or just go visit the the Kickstarter page and log into your account there to view all the updates. For those who didn't get in on the funding of the project, I've posted a few updates here on the blog and made some comments in the comment sections of other blog articles as people have asked. We've been more open about this project than we have any other project in the 26 years I've been writing Bible software. If you want to know what's going on and can't find it here, just ask.
On May 1 I was projecting "mid-June" for being done with the basic feature set (not the Advanced Features). I've slid about a week since then. Here's an update on that to-do list I published last month:
Autosync – (Automatically sync changes to notes, highlights, and bookmarks to/from the Laridian Cloud.) This is done and working.
Pane management – (Provide a way to open and close panes.) This is done but I'm still seeing some flakey behavior from time to time.
Button icons – I've made a user interface change that has cut down on the number of new button images I need to create.
Note editing/searching - I need to spend a couple more hours on the note editor. Note searching is done and supports most of the key features of book searching (that is, results sorted by relevancy, sounds-like searches, and root-word searches).
History – (Implement back/forward.) Haven't started this yet. Hope to lift the design from iOS.
Search – I am currently working on a couple of special features of the search pane. For example if you search the Bible for "John 3:16″ the program now shows you John 3:16 instead of searching your Bible for the text "JOHN 3:16″. And when you do a Bible verse search in any book, you'll see a list of places in the book where there is a link to the verse.
Devotionals – I believe devotionals are done.
Highlights – Highlights are done, including renaming highlight colors if you own the Advanced Feature Set.
Preferred Books – Provide user interface to choose preferred books.
Remove some features that actually belong to the Advanced Feature Set. The program now automatically adjusts to the presence or absence of the Advanced Feature Set; I just need to make sure I'm turning on/off all the appropriate features.
Fix a few bugs I've been living with but you won't want to. I keep finding more of these.
The plan is still to make the free version of the program available first, then implement the Advanced Feature Set. Right now, the list of Advanced Features Set features looks something like this:
Autostudy – Word study, verse study, and I'm hoping to add a new study called "Today", which will pull today's Bible and devotional reading into one convenient document.
Saved Layouts – The ability to create different "desktops" or "layouts" for different study configurations.
Open All Books – Open all installed books into a predefined layout.
Journal Notes – Notes that are not attached to a verse, just like the Journal features on PocketBible for iOS.
Named Highlight Colors – The ability to rename highlight colors to something meaningful instead of just "yellow" and "pink" etc.  This is already done.
I think that brings you up-to-date. I'll post a video update to the blog sometime soon that demonstrates more of the features that the Kickstarter backers have seen but I haven't shown publicly.
As always, thanks for your support during this process. And if you like what we're doing here, give us a High 5!
Tags:
Mac OS
,
PocketBible
,
Programming
,
Update