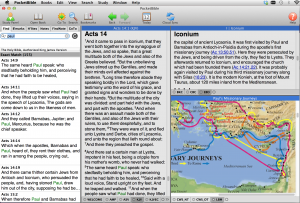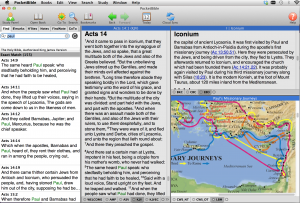 We're pleased to announce that version 1.0 of PocketBible for Mac OS X is now available for download at the Laridian website! You can find out more about PocketBible and hundreds of Bibles and reference books available now for Mac here.
Easier Searching
The Mac version of PocketBible implements an improved search algorithm we first introduced in PocketBible for Android a few weeks ago. Rather than asking you to learn the language of Boolean algebra and regular expressions in order to be able to formulate a search specification, PocketBible allows you to simply tell it what you're looking for, like "faith comes by hearing". PocketBible performs about a dozen parallel searches to find not only every verse in which the phrase you're searching for occurs, but also verses in which words that sound like or have the same root word as the words you're looking for appear in the same order or close to the same order as you entered them. The result is that PocketBible for Mac OS X is more likely to find the verse you're looking for than were previous versions. So a search for "faith comes by hearing" finds Romans 10:7 in the KJV even though in that verse, "comes" is "cometh".
PocketBible for Mac also takes advantages of capabilities of our electronic books that we have never exposed before. For example, you can search a commentary not just for its discussion of a passage, but for everywhere the passage is mentioned.
Download Free
PocketBible for Mac requires OS X 10.7 and is available as a free download. Installation is easy: open the downloaded disk image and drag the PocketBible icon to the Applications folder (just like any number of Mac apps you download from the Web). PocketBible will prompt you to create an account or log into your existing account to gain access to dozens of free Bibles and reference books, or in the case that you are already a Laridian Bible software user on another platform, access to Bibles and books you've previously purchased for use in that program. Once you've entered your login credentials, you download books directly from the "Cloud Library" feature of the program as opposed to downloading an installation program from our website. Watch instructions below:
Sync your Personal Data
If you have notes, highlights, bookmarks, or devotional reading progress in another version of PocketBible that you have sync'ed to the Laridian Cloud server, you can turn on automatic synchronization in PocketBible for Mac and have access to all your user-created data on that platform as well.
Customize the Screen Layout
PocketBible allows you to customize the screen layout, arranging books into any number of tiled panes. You can open any number of books in each pane. Panes can be resized, and books can be moved from one pane to another by simply dragging the tab corresponding to the book into the tab bar of the target pane.
There's More to Come!
As good as PocketBible is, we're not done with it yet! We'll be implementing a number of advanced features that will be available for a nominal price. These include multiple tabbed layouts, the ability to rename your highlight colors, journal notes (notes that are not connected to a Bible verse), and an expanded Autostudy feature you may have seen in PocketBible for iOS. We'll have more to say about the Advanced Feature Set in upcoming weeks.
In the meantime, the best way to find out how PocketBible for Mac OS X can enhance your Bible study is to download it today!
Tags: features, Free software, Mac OS, PocketBible