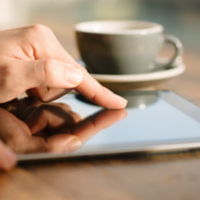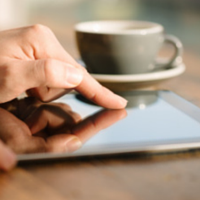 If you want to explore the contents of a print book, you know to look at the table of contents inside the front cover. When it comes to Bibles, you may be able to flip through and be fairly close to the book of the Bible you are looking for because you are already familiar with the structure of that type of book. But how do you navigate different types of books in PocketBible? Where are the tables of contents?
GoTo = Index/Table of Contents
The key to simple navigation of any type book in PocketBible is the GoTo icon on the toolbar. Most PocketBible users know to tap on this icon if they want to go to a specific place in the Bible–here you can specify Book, Chapter and Verse to move to an exact location. But did you know this same button works similar for other types of books as well (i.e. dictionaries, devotionals and commentaries)?
When you tap on the GoTo icon in PocketBible, it presents you with an index or table of contents based on the book you currently have active. Thus, the navigation options presented change based on the book you are viewing. There are five categories of books in PocketBible:
Bibles – you can navigate Bibles by Book | Chapter | Verse.
Commentaries – while these books are organized by Bible verse, navigation options will also include links to introductory articles and appendices along with options to drill down to comments on specific Bible books, chapters, passages and verses.
Dictionaries – there are two types of PocketBible dictionaries:

English dictionaries – navigation is in article order, usually alphabetic but sometimes topical.
Greek/Hebrew or Strong's number based dictionaries – navigation is by Strong's number. Unless you have Strong's numbers memorized, it is best to use a Strong's numbered Bible translation to navigate to a definition as described here: How can I Use Strong's Concordance in PocketBible?

Devotionals – navigation is by date. If you tap on the GoTo icon with a devotional active, you'll be presented with a calendar. If the date is off or you are behind schedule, you can reschedule or start the readings over.
Other – the books in this category vary widely by type but one thing is the same for all, tapping on the GoTo icon with this type of book active will still present you with an appropriate index to navigate the book easily.
Searching
A major feature of PocketBible, Searching, lets you quickly find what you're looking for in PocketBible without navigating an index. Just type in any word or phrase in the search field (look for the magnifying glass on your toolbar) and you'll be able to choose from a list of places in a book where your search word(s) were found.
Synchronizing Books
Take advantage of PocketBible's ability to synchronize books automatically and you won't have to worry about navigating. If you go to John 3:16 in your NIV Bible, all other Bible translations will move to that same verse and your commentaries will move to that verse if they have a comment on it (this option can be turned on/off in PocketBible). Dictionaries will sync by topic/article as well. For example, if you look up the word "Aaron" all open dictionaries will move to their article on Aaron, if applicable. The same if you tapped on a Strong's number – all open Strong's numbered dictionaries will move to the article on the active Strong's number.
A Bonus Tip
A quick way to move between open books is to tap on the title bar of the active window. You'll get a drop down list of books that are open in that window or pane and you can tap on any book listed to move there. You'll also see options in the drop down list to close or open books in that window. (Mac and PC users will see tabs for opening and closing books). See a video of this.
Tags: Navigating, PocketBible