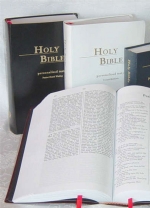 Laridian has released the Personal Promise Bible for use with PocketBible. This new product is available in two translations:
The Personal Promise Bible is a unique product which takes your first name, last name and spouse's name (if married) and inserts it in over 7,000 places throughout the Old and New Testaments, giving each promise new life and significance for you personally. As the name implies, the idea is to help you comprehend God's promises in a more personal way.
Each translation of The Personal Promise Bible sells for $24.99 and is available for use with PocketBible for iPhone/iPad/iPod touch, Windows PC, and Windows Mobile.