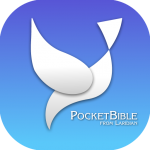 PocketBible for iOS, version 3.3.7 was approved for distribution in the App Store this afternoon. You should be notified when it is available to you.
New Features
The new iPhone scrolling toolbar makes more features instantly accessible without accessing the menu. Flick the toolbar left or right to slide the toolbar and reveal more functionality. We've added direct access to your list of notes and highlights, the Settings menu, and other features that were previously only on the iPad toolbar (which is larger and therefore had more room for more buttons).
There's no longer any need to purchase voices to use the audio features. The Advanced Feature Set now uses built-in iOS voices and allows you to set pitch and rate of speech. The program will automatically remove any of the old voices it finds to free up space.
We've made it easier to share Bible verses to Twitter, Facebook, and other social media. Select your text then choose Share from the Context menu. Now, one problem that most people don't realize is that Facebook recently changed its policies so that apps cannot pre-populate your status text. This policy is enforced through the Facebook app. So if the Facebook app is installed, your verse text will not show up in the status field when you choose to share on Facebook. Instead, either remove the Facebook app (!) or simply use "copy" in PocketBible to copy to the clipboard, then paste into the Facebook app. We agree this is, well, dumb. But, hey, it's Facebook, right?
You can now include links to websites in your notes. These links may not be honored on other platforms if you sync your notes, but they will work on the iOS version on all your devices.
Enhancements
The free version of PocketBible now supports text selection for copy and other operations. Previously, only entire verses could be selected.
Searching for selected words, or doing a dictionary look-up of a selected word is easier. After selecting text, you'll find "Find" and "Look Up" on the menu bar (along with "Copy", of course). It's the same number of taps as before, but it is easier and quicker to find.
Advanced Feature Set users will notice the confusing Selection Actions menu is gone. The functionality of that menu has been integrated into the Context menu. Instead of listing every operation separately ("Copy Selected Text", "Copy Selected Verses", and "Passage Action", for example), we only list the "actions" ("Copy", "Highlight", "Share", etc.). Under those we give you a choice of what you want to act on ("Selected Text", "Selected Verses", "Passage", etc.). This makes the context menu shorter and easier to navigate. In some cases it adds a tap, but the overall improvement in usability is significant.
Bug Fixes
A number of bugs and misbehaviors were addressed. None of these were show-stoppers but some were annoying. For example, the go-to-verse buttons on the iPad in landscape orientation were too small, and the download progress bar would sit at zero until 100% of the book was downloaded.
What's Next?
Next up we'll be looking at two major tasks: First is evaluating the best way to support the multitasking features of the new iOS 9 devices. Best case, it will require a little additional programming. Worst case, it will require a redesign of major portions of the program. It's not clear yet where we'll fall on that spectrum. Second, we'll be bringing a couple features of the Mac version into the Advanced Feature Set of the iOS version. We'll have more to say about that soon.
Tags: iOS, PocketBible, Update