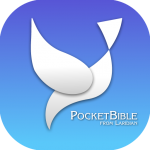 Apple approved PocketBible 3.4.0 on Monday. The motivation for this update was support for iOS 9 multitasking ("Split View") on the newer iPads. Of course we took advantage of the update to roll out some new features and enhancements at the same time.
Version 3.4.0 adds Passage Actions to the main menu. This gives you a way to copy, share, or print a verse or passage without actually going there first. I use this to grab verses to insert into sermon notes without losing my place in the Bible.
A number of features were added for new users to ease them into the admittedly complex PocketBible navigation methods (such as swiping from right to left to turn a page, just like a book and just like every ebook app). A new Welcome to PocketBible slideshow is triggered when the program is launched without having previously been registered. It introduces the basic functionality of the program. And the navigation overlay has been enhanced to remind you that you can also swipe instead of tap to navigate.
Version 3.3.7 eliminated the need to purchase voices to take advantage of audio features of the program, but introduced a bug that made it impossible to choose between two voices in the same language. Version 3.4.0 fixes this issue. We also discovered that iOS 9 voices speak more slowly than the same voices in iOS 8, so we changed the default rates and gave you more rate choices if you're running iOS 9.
You can read the full list of new features, enhancements, and bug fixes when you download the update from the App Store. Or, you can read it below.
What's Next?
Next up will be a fairly significant update to PocketBible that I'm tentatively planning to call PocketBible 4. We think the new version will be easier to use and will introduce some new features in the Advanced Feature Set that will make the AFS more valuable for those of you who choose to purchase it.
You should note that we plan to raise the price on the AFS at some point in this process, so now is the time to upgrade if you haven't already. You can do so from within the app, but it's cheaper to do it on our website. After purchasing the AFS on our site, just choose Buy/Apply Upgrade from the menu in PocketBible to enable the advanced features.
---
NEW FEATURES
Support for iOS 9 multitasking (Split View)
Added Passage Actions to the main menu for easily copying or sharing any verse or range of verses without first finding the passage and selecting it in the text.
ENHANCEMENTS
New Welcome to PocketBible slide show for new users.
Touch zone overlay now shows swipe direction in addition to the functions of each touch zone.
Add Share to the press-and-hold menubar to give quicker access to sharing selected text.
Leave the Note Viewer open on the iPhone when following an external (Web) link. Makes it easier to get back to where you were.
BUG FIXES
Show iOS 9 voice names so that you can choose between two voices in the same language and locale.
iOS 9 voices are slower than iOS 8 voices were. Changed the rate options for iOS 9 so that voices sound more natural at the "normal" rate.
Make sure status bar background and text colors gets set correctly.>
When copying/sharing text, do not include the "Note" marker at the beginning of a verse that has a user-created note. Also, do not include translator's footnotes.
Don't use the Context menu Share submenu for non-Bibles, as it will have only one item in it. Just do Share Selected Text directly.
Tags: Advanced Features, iOS, PocketBible, Update