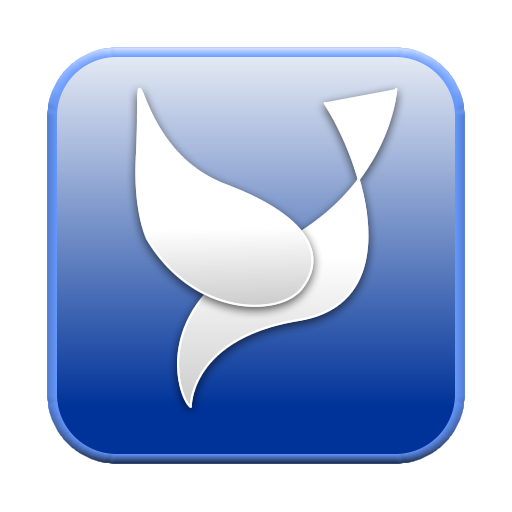 This is where you'll find the latest version of PocketBible for Android, a brief description of how to use the program, and notes on what's new in each update to the program. If you already have PocketBible for Android installed and just want to download the update, you can skim for new features and bug fixes, then skip to the bottom of this post for download instructions.
About PocketBible for Android
PocketBible for Android is rapidly adding new features and is being frequently updated (see the revision history below). Any features you find missing from the program are likely coming soon. Sign up for email notifications (see the link on the right) to find out about each update as soon as it is released.
Major Changes in This Release
This version (0.5.2) includes a number of small enhancements and bug fixes that are intended to move us toward making the app available on Google Play. See the revision history (below) for details.
Operating Instructions
When you run the program it will prompt you to either create an account or log into your existing account on our server. If you are a Laridian customer or have ever been one in the past, it's best to log into your existing account rather than create a new one. There's a button there that will let you request your password from the system if you don't remember it. Once you're logged in, you'll see a list of books you own. Pick one Bible or reference book to download. You can download more than one at a time, but — especially for large books — the program seems to do better downloading one book at a time. It also reduces the demand on our servers.
Note that books are installed to your storage card first, then to main memory if the storage card is full or not available. There may be more options in the future, but for now the program automatically selects where to install your books. Books are installed to an appropriate subdirectory on the card (usually /Android/data/com.laridian.pocketbible/files).
If you have both an "internal storage card" (i.e. an area of internal memory designated as a storage card) and a card slot for an external storage card, your books could end up on either one. This is due to a design flaw in the Android OS in which the OS designers assumed that no OEM would ever have more than one storage card on a device. We anticipate coming up with a solution for this flaw in the Android OS in a future release of PocketBible.
When your first book has finished downloading, use the "Back" button to view the text.
Flicking up or down scrolls the text. Text is buffered above and below the current screen. If you scroll too fast you may have to wait while the program loads more text. For normal reading and for normal navigation within a few paragraphs of where you're reading, you should never see the "Loading…" message that indicates the program is off retrieving more text. If you find yourself flicking furiously through the text to get to a verse, you're doing it wrong. Use the "Go To…" feature to quickly navigate to another place in the book.
Swiping left or right takes you to the next or previous chapter (if viewing a Bible) or page (if viewing any other type of book). If you have a left/right button on your device, it will work, too. Note that moving by pages is not precise — it may not be the case that the next page starts on the exact line that was just off the bottom of the screen on the previous page. But you should not "lose" a line when you turn a page.
As you scroll through a Bible or reference book, your position in the book is displayed on the title bar at the top of the screen. For performance reason, the position is not updated until you stop moving through the text.
To go to a particular verse, open a Bible then select the Go To button on the Action Bar at the top of the screen (the button looks like a right arrow in a box). If you have a keyboard, you can just type 'G' instead. Select the book of the Bible you want to go to, then the chapter, then the verse. If you make a mistake, use your device's "Back" button to go back and correct your error. To go to the first chapter of a book (or the first verse of a chapter), just select the book (or chapter) then press the "Go" button in the upper right corner. Note that the last verse you navigated to (either by "go to" or by turning pages) will be selected by default to make it easier to select a verse in the vicinity of the one you're currently looking at.
To go to a reading in a devotional book, open your devotional then select the Go To button on the Action Bar at the top of the screen. Select the date of the reading you want to view and press "Go". There's a shortcut button for today's reading below the date picker. Note that currently all devotionals are setup to start on January 1 and there's not yet a way to track your reading progress. Future releases will add this functionality, which you're familiar with from other versions of PocketBible.
To navigate in other types of books, select the "Go To…" button or press the letter 'G' if you have a keyboard on your device. You'll see a hierarchical table of contents. Select an item in the table of contents to expand it or go to it, and use the Back button to move "up" in the hierarchy.
To split the screen into two or more panes, choose Split Screen from the menu. If you're using PocketBible on a phone or a phone-sized device, you'll be able to split the screen into two panes. If you're using PocketBible on a larger device, like a tablet, you'll be able to split the screen into as many as five panes. When there is more than one pane open, the "active" pane is highlighted (it appears brighter than the others). Any action you perform (such as opening a book, going to a Bible verse, or flicking through the text) will occur in that pane. To activate a different pane, just tap it.
Each pane contains a number of open books. Future versions will give you easier ways to select which of the open books you want to view. For now, just choose "Open Book" from the Action Bar to open a different book.
If you've downloaded more than one book you can switch between them by choosing "Open Book" from the Action Bar (the button looks like a starburst, which is supposed to suggest "new"). To download another book or to delete one you've already installed, choose the Add/Remove Books button from the menu. On most devices this will be on the overflow menu, which is accessed by selecting the button on the Action Bar with three vertical dots.
To get back to where you previously were after following a link or changing books, select the Back button (left arrow) from the Action Bar or overflow menu. You can go back several steps but if you press Back enough times you'll eventually exit the program. The Forward button (right arrow) moves you forward in your navigation history if you find you've gone back to far with Back.
While you'll eventually exit the program if you press Back often enough, the easiest way to exit PocketBible (or any Android app) is to press the Home button on your device. This could be a physical button or a button on the screen, depending on your device.
To search for a word or combination of words, press the Search button on your device. Enter a word or phrase and PocketBible will show a list of all the verses the word or phrase occurs in. Note that searching is only partially implemented. If you search for "John the Baptist" you'll see the verses that contain all three words ("John", "the", and "Baptist") but not necessarily in that order or all together in a phrase. This is coming in a future version.
The next time you press the Search button, you'll see the results of your most recent search and you can select a different verse to go to. Or press the Search button a second time and you'll be able to enter something else to search for. If you don't have a hardware Search button to press while looking at the search results, select Search from the Action Bar.
To change the size or appearance of text, choose Settings from the menu, then Display Settings. Android offers a very limited selection of fonts (actually font styles, not type faces), though the font we use in PocketBible offers more styles than the built-in font. You can choose from seven preset sizes or enter a point size from 8 to 128. You can select from several text color schemes and two user interface schemes. The former affects the background and text color for books, and the latter affects the color of the Action Bar and the Title Bar of each pain. Other settings include being able to disable "words of Christ in red" and change how footnotes are displayed in the text.
To change program operation options, choose Settings from the menu, then Program Settings. Currently the only setting you can change is whether or not Bibles and commentaries are sync'ed to the location of the currently active Bible. When enabled, as you navigate in the Bible, any other Bibles and commentaries you have open should at least try to go to the same verse that you're viewing in the active Bible.
Installation Instructions
Below you'll find a link to the PocketBible APK file on our server. You should browse to that address using the browser on your Android device. Your device should automatically download the APK and give you a way to select it to be installed.
If you are reading this on your Android device, you can download the program by selecting this link: LPB.cc/android.
If you're not currently reading this on your Android device, just type this URL into the Web browser on your device and the program will be downloaded automatically: LPB.cc/android
If you are upgrading from an earlier version see the comments above regarding the need to re-download your Bibles.
This version requires at least Android OS version 2.2 (that's Froyo for those of you who insist on cutesy code names for your program versions).
Revision History
0.5.2 February 8, 2013

Enhancements:

The program now ships with the KJV Bible pre-installed.
Allow the user to use the program without registering, and to change the customer ID and password they're using. Made a number of tweaks to the 'Create Account' page and the way registration works.
Removed 'Back' from the menu since the device has a built-in Back button.

Bug Fixes:

Fixed a mysterious "forced close" on program launch that seemed to be related to doing something else for a while then returning to PocketBible.
Change Bible footnote colors as part of changing theme colors.

0.5.1 January 29, 2013

Fixed a bug in the code that encrypts the parameter string we send to the store that caused some users to be unable to log into the store.

0.5.0 January 28, 2013

Integrated the PocketBible Bookstore. To purchase books from within the program, select "My Library" from the menu, then "Shop for Bibles and Books".
Added missing icons for menu items and reorganized menu to move frequently used items up. Put "Open Book", "Add/Remove Books", and "Shop for Bibles and Books" together under "My Library".
Changed "Split Screen" to a toggle for phone devices (between one and two panes).
Bug fixes:

Fixed a problem where Bibles would initially go to the right verse, then jump back a verse.
Fixed a problem where changes to display settings were not immediately reflected on the screen.
Following a link now causes the target Bible/book to become current.

0.4.7 January 21, 2013

Bug fixes:

Fixed a "forced close" problem on program launch on certain devices. Affected users have not been able to successfully run the program since version 0.4.4 or 0.4.5. If you are successfully running 0.4.6, you don't need this update.

0.4.6 January 16, 2013

A number of bugs were introduced in 0.4.4 and 0.4.5 as a result of implementing sync'ing between panes and also as a result of building against the latest version of the Android SDK. Bug fixes in this version include:

Fixed a problem in which selecting a verse from the search results did not scroll the Bible text to the target verse.
Fixed a "forced close" problem on some cheap tablets with a poor implementation of Android OS. They were reporting a pixel density of 0 instead of one of the correct values (0.75, 1.0, 1.5, or 2.0).
Fixed a problem on devices running OS version 4.2 in which little or no text was displayed. Caused by a change in the latest version of the SDK that breaks all existing Android programs that display HTML pages containing Javascript.
Fixed a "forced close" problem when moving back through history, causing the number of panes to change.
Fixed a problem in which a fresh install (not an upgrade) resulted in the title bar being "Lev 0:0″ and potentially crashing when you try to swipe to the next chapter.

0.4.5 January 14, 2013

Bug fixes:

Linking from a commentary to the Bible caused the commentary to move to the linked-to verse, but not the Bible. Introduced in 0.4.4. Fixed.

0.4.4 January 10, 2013

Added the ability to sync Bibles and commentaries to the active Bible. Enabled through Program Settings. When enabled, Bibles and commentaries will attempt to go to the location in the title bar of the active Bible.
Added a logging feature on "force close".

0.4.3 December 26, 2012

Bug Fixes:

Fixed a problem where the program crashed when trying to change the margins.
Changed the title bar text color back to what it had been to make it more readable.

0.4.2 December 23, 2012
0.4.1 December 10, 2012

Bug Fixes:

Under certain circumstances, a newly opened book could start scrolling uncontrollably. The user would see a blank pane or "flashing". This has been addressed.
Under certain circumstances, the verse you are trying to go to would be displayed in the middle of the pane rather than at the top. This was especially noticeable when the program was first launched or when rotating the device. This has been fixed.

0.4.0 December 5, 2012

Added ability to split the screen into 2 panes for phones or up to 5 panes for tablets.
Changed the way the title bar text is created for non-Bibles to allow up to two lines of text.
Bug Fixes:

When a book or Bible contained the word LORD'S (all upper case), all the text from the apostrophe to the end of the paragraph vanished. Fixed.

0.3.6 November 6, 2012

Worked around a bug in Android 4.0 in which "web views" do not properly draw their contents on the screen. The symptom was the screen being blank most of the time. The solution was to disable "hardware acceleration" for the view in which we draw our text, which is disabled by default in previous releases of the Android OS but was enabled in Android 4.0. The problems introduced by this change were apparently fixed in some/all releases of Android OS 4.1.

0.3.5 October 31, 2012

Added the Action Bar at the top right of the screen in lieu of using the Menu button. Two or three buttons will appear on the Action Bar, the rest are in the overflow menu, which varies in appearance depending on the version of the Android OS you're running.
Added "Back" and "Forward" functions to make it easier to go back to where you were after following a link to a Strong's number, Bible verse, etc.
Footnote support. Tap asterisk to expand note.
Added "About PocketBible" to display the version number and other information about the program.
Locked book download list in portrait mode to prevent it from re-querying the server.
Bug fixes

Fixed bug where going to Rev 22.21 (or other verses near the end of the Bible) got you close but not all the way there.
Fixed links to the glossary in the CJB.
Fixed a bug where links to Psalms 128 and higher showed negative numbers. Fixed similar bug where links to Psalm 119:128 and higher showed negative numbers.

0.3.4 October 12, 2012

Support for images

Display at full size with horizontal scrolling
Links, if any, are clickable

Reduced the minimum LBK file version the program can read to 1.026 to pick up more user-created books.
Bug fixes:

Fixed New Testament Strong's numbers. They were somewhat random before but should be correct now.
Fixed dictionary look-up links to "long" words and phrases, like "Ark of the Covenant"
Fixed links to Bible verses that contained negative numbers like Psalm 119:-1–2

0.3.3 October 4, 2012

Bug fixes:

Fixed capitalization of words like GOD's and PocketBible (words that are not no-caps, all-caps, or initial-caps)
Changed the minimum LBK file version the program will accept to allow books created with BookBuilder to be opened.
Addressed "disappearing books". May or may not have fixed this problem.
Fixed "uncontrolled scrolling" where the screen goes blank after viewing the title page for a couple seconds.

0.3.2 October 2, 2012

Added a menu to the search results view which contains just a "New Search" button. This is for those who don't have a physical "Search" button on their device so they can start a new search.
Implemented Strong's numbers links and enabled download of Bibles containing Strong's numbers.
Bug fixes:

Some users experienced "uncontrolled scrolling" when they scroll past the top of the book. Fixed.
Clicking on the message that appears while PocketBible is downloading your list of owned books would cause the program to crash. Fixed.
Some users experienced an empty screen (actually, it just said "Loading…") when they first launched the program or first opened a book. Fixed.
Version 0.3.1 broke the "go to" operation in Bibles. It would take you to the top of the paragraph containing your verse, but not to the verse itself. Fixed.
Version 0.3.1 broke "words of Christ in red" in Bibles that supported that feature. Fixed.

0.3.1 September 28, 2012

Now uses the same LBK files as our other platforms. Book download sizes (and thus download times) are dramatically reduced (by 75% or more in many cases).
Text is now presented as continuously scrolling instead of broken up into arbitrary "pages" (chapters for Bibles and ?? for non-Bibles).
Swipe left/right still moves by chapters in Bibles, but moves by screen-sized "pages" in other books.
Title bar displays more accurate position information as you scroll through the text. Title bar is updated only during pauses in scrolling.

0.3.0 August 9, 2012

Basic devotional support: Ability to download and install devotionals. Ability to navigate by date based on a fixed start date of January 1 of the current year.
Fixed a problem with Vine's Dictionary that we thought we fixed in 0.2.2.

0.2.3 August 1, 2012

Improved "Go To" function for Bibles. Color-coded book/chapter/verse chooser similar to but better than the iOS version of PocketBible.
Fixed the "Back" button so it does not invoke "Go To". We are now allowing the operating system to handle "Back". Pressing "Back" while reading a book just exits the program. We will implement better "Back" functionality in a future release.

0.2.2 April 27, 2012

Strong's dictionaries (or any dictionary that had entries for Strong's words) were causing the program to crash when it tried to open them. This has been fixed.
Initial support for searching.
By popular demand: Don't swallow the Back button. Allow it to exit the program unintentionally.
Support for RVR95, NBLH, and LBLA Spanish Bibles.
Support for the NAB Revised Edition Catholic Bible.

0.2.1 February 15, 2012

Fixed a problem with links in the ESV Study Bible Notes and some other books.
Recognize inter-book TOC links. NET links to NETNTS is an example.

0.2.0 February 7, 2012

Add support for commentaries, dictionaries, and "other" reference books to the existing support for Bibles.
Keep track of current location within each book, so that when you return to that book, you'll be in the same place.
Trap the Back button to prevent unintentional exit from the program.
Stores books in the "correct" folder on your storage card.
Increased the minimum Android OS version to at least 2.2.
Tags:
Android
,
PocketBible