Please note the date on this post. Read our more recent posts on the iPhone for more up-to-date information.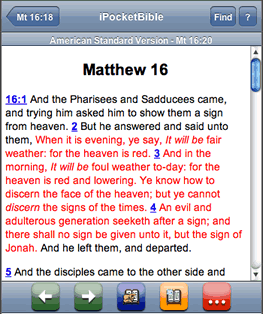 Since the whole idea for this product kind of grew out of these blog articles and comments, it seems only fair that we post some kind of a progress report. So…
We've posted a short video of me demonstrating iPocketBible on the iPhone. It's at www.iPocketBible.com. Choose either the WMV version or the QuickTime version. If your browser is set up right it should start playing without waiting to download the entire file. Otherwise you're in for a short wait.
The screen shot to the left was actually done using Safari on a PC. It looks similar, but not exactly like, the program running on an iPhone. For one thing, on the PC there is a scrollbar on the right. Actually I thought I photoshopped that scrollbar out of there but I see now it's still there. Oh, well. Pretend it's not.
This product has been interesting to work on. When you sit back and think about it you think, "This shouldn't take more than a week." Then you start in on it and there seems to be no shortage of obstacles. Perhaps the biggest is maintaining some kind of login and subscription management system. The idea is that you'll pay a nominal fee for access to the program and you'll have access to all the content (Bibles and reference books) you already own for PocketBible, MyBible, or our other readers. And if you want to add a Bible or a commentary you just purchase it and it shows up on your iPhone. That's taking some effort to put together.
None of the content actually resides on your phone. But when running iPocketBible, especially in a WiFi environment, you won't notice much of a difference in speed as compared to, say, MyBible running on your Treo.
I'm working on notes, bookmarks, and highlights right now. That's another harder-than-expected effort. We have to store all your user-created data somewhere on our server and not get it mixed up with everyone else's.
So enjoy the preview; I'll try to shoot another video soon with even more features, then hopefully have the product up for you to check out Real Soon Now. Hopefully the preview will keep you entertained for a while. And perhaps keep your mind off asking what else is coming from Laridian in the near future. Stay tuned!