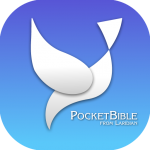 Apple has approved PocketBible 3.2.3 for distribution on the App Store. This version is a minor update intended to fix a few problems mainly on the iPhone 6 and 6 Plus. (We're just going to pretend that 3.2.0 never happened.)
The new iPhones have larger screens. PocketBible has absolutely no problem with larger screens. In fact, exactly the same code runs on the iPad and iPhone. PocketBible asks iOS how big the screen is, then proceeds to fill it. Apple, however, has to protect you against apps that assume that the only possible size the screen can be is one of the known sizes as of the date of release of the app. So when we ask iOS for the screen size, it lies to us and tells us the size of the iPhone 5 screen. Then it multiplies the pixels by 1 + a small fraction and blows our user interface up to fill the screen.
The result of this "lie and blow up" strategy is a blurry app, as you can see on the left, below (click for full resolution).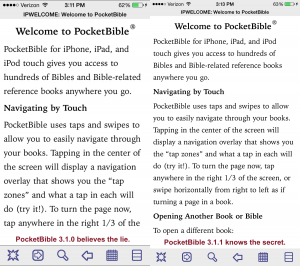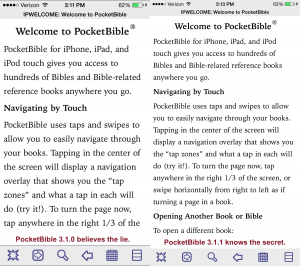 On the left is version 3.1.0. On the right is 3.2.3 (misidentified as 3.1.1 in the picture above). Version 3.2.3 jumps through the magic hoop that tells iOS that we understand the larger screen size. The "hoop" consists of using a different method to display the "splash screen" that appears when you launch PocketBible. When iOS sees we are using this method, it knows that we must know about the iPhone 6, so it stops lying to us about the size of the screen and allows us to use all the pixels on those great new displays. As you can see, the screen shots were taken just two minutes apart. It's literally the same PocketBible code displaying non-blurry text. (Can you tell that this frustrates me a bit? I'll post a link in the comments with more ranting about this if you're interested.)
One nice change in this version is that you can change the password on your account without being forced to delete your books and your user-created data. The previous version believed you were trying to log into a different account, so it forced you to delete your books and answer some hard questions about your notes, highlights, and bookmarks before it would continue. The new version realizes all you have done is change the password, so it doesn't ask you to do any of that.
If you DO log into a different account, it will still ask you to do something about your user data so that it doesn't get corrupted by being sync'ed to a different account, but it isn't as insistent that you do it right away.
This all being said, you shouldn't be switching user accounts. If you think you need to bounce between user accounts, talk to us so we can figure out what you need and solve it correctly.
Behind the scenes, PocketBible 3.2.3 is now using https: connections to talk to the server for all connections, not just the ones where personal data like passwords are being transmitted. This takes advantage of some security changes we've made at the site in the last few months and makes all your data more secure than it needs to be.
The App Store on your device will notify you about the update, or you can just go get it now.
Here's the full list of new, enhanced, and repaired features in 3.2.3:
New Features
Recognize and take advantage of the increased screen size of the iPhone 6 and 6 Plus instead of allowing iOS to scale the screen, which caused text to be blurry.
Support "custom Bibles" from BookBuilder which specify custom versification by referencing existing versification schemes. (Reader Engine version 1.073.)
Enhancements
Allow the Font / Size / Brightness setting window to rotate to landscape and to fill the full width of the screen.
Allow user to change password without forcing them to delete books and user-created data (notes, highlights, bookmarks, etc.).
Allow user more affirmative control over disposition of user-created data when logging into a different Laridian customer account.
Use https: connections throughout, even though no personal data is being transmitted.
Do a better job selecting italic and bold/italic fonts with families that support heavy, bold, demi, semi, medium, etc. variants.
Bug Fixes
Fixed a bug that caused text-to-speech reading to stop at an empty verse.
Table heading tags were getting filtered out of notes.
Opening a devotional with no existing start date would create a start date, overwriting the existing start date that might not have yet been sync'ed from the Laridian Cloud.
Fixed a memory leak when displaying lists of bookmark categories.