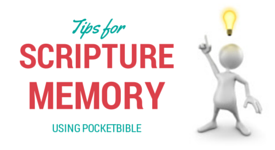 Sometimes we make things more complicated than they need to be. A friend shared the following article from Awana with me: 10 Steps for Effective Scripture Memory. These 10 steps are actually fairly simple. To summarize, they suggest you: Read it, write it, speak it, hear it, divide it, memorize it, repeat it, recite it with a group, design it and review it. If memorizing Scripture is something you'd like to do, you can easily accomplish several of these steps with PocketBible using the bookmark or highlight feature:
Organize – create two bookmark categories for the purpose of memorizing (i.e. Memorize, Review) or choose a highlight color and rename it*.
Select – add the verses you are interested in committing to memory to the appropriate category in PocketBible.
Review – follow some or all of the steps in the Awana article to commit the verse to memory including reviewing it, reciting it, listening to it*. Once a verse is memorized, move it to your Review bookmark category for more occasional reviewing.
There are so many benefits to memorizing scripture including having the sword of the Spirit always at hand (Ephesians 6:17), helping you to focus on the right things (Philippians 4:8), and keeping you from sin (Psalm 119:9,11).
If you have tips on memorizing verses, please share them in them in the comments below! If you are looking for a dedicated memorization tool to use, consider this free online tool called Memverse.
Note: Some features mentioned above require the purchase of an Advanced Feature set which are currently available for iOS, Mac OS X,Windows Phone and Windows Store.