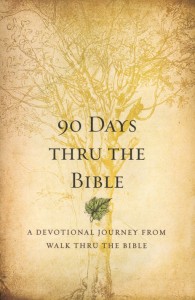 When you first read the title of this book, you may think, "Oh, another plan to read through the Bible in 90 days." But there's more to this book than meets the eye.
90 Days Thru the Bible is a different thing altogether. It's a devotional. About the Bible.
It is 90 days of looking at the big picture of the Bible. Walking through the events and stories and thinking about what they mean. What is God saying to us through the people He chose? Through the interactions He had with these people? What is He saying about Himself? What response does He want from us?
The author, Chris Tiegreen, explains it well in the preface:
…the purpose of this book is to draw the major themes out of each book of Scripture and to meditate on how each one contributes to God's great story. At one level, it's an overview, but it's designed to go much deeper than that–more like admiring the beauty of each piece of a puzzle and contemplating how it contributes to the whole picture. In the process, we will encounter the major characters, events, and themes of the Bible and discover a divine flow that connects them all. We will see how God unveiled Himself and His purposes over diverse centuries and through diverse people. The majesty of Scripture will inspire us more deeply and enhance our appreciation of the heart of God.
I love the idea of a devotional about God's Word. And the fact that it takes you through the Bible in order. And that it lets you step back from the detail of the text to think about the big picture. As such, you can enjoy this devotional in a variety of ways:
If you have already started a Bible reading plan, use the book as a companion to your daily Bible reading (as I mention below)
If you've recently finished a Bible reading plan, it would be an excellent way to revisit what you've just read without starting a new plan.
If you are not currently using a plan to read through the Bible (because of time constraints, etc.), this will keep you in the Word and you can read the Bible text as you have time.
Currently, I am using this devotional as a companion to the Old Testament in One Year reading plan for PocketBible. The devotional prepares me for reading the text. However, I don't have to read a devotional every day with my reading plan because it usually covers a bigger passage than my daily assigned reading. For example, Day 7 of the devotional talks about Exodus chapters 1 through 7. My reading plan took 3 days to read through the specific Bible text for those chapters.
Could you use this devotional to read through the Bible in 90 days? Yes. There is a section of Bible text covered with each day's devotional and you can link to the assigned reading with PocketBible. However, since the book was primarily written to be a devotional journey through the Bible, the amount of Bible text covered each day can vary. A true Bible reading plan will try to keep your assigned reading for each day fairly even. In this book, you might see something like Day 13 which covers the entire book of Deuteronomy. That's a lot of reading for one day. But if you can devote that amount of time to daily Bible reading, then yes, you could use this devotional to read through the Bible in 90 days.
The author, Chris Tiegreen, is currently an editor for Walk Thru the Bible and has published a number of devotionals, two which we offer for use with PocketBible: One Year Walk with God and One Year Wonder of the Cross Devotional.
Not sure if this book is for you? Check out our new Book Preview on the product page for this book (lower right corner).