Posts Tagged 'Mac OS'
Here's a video update on our progress on PocketBible for Mac OS X.
There's more information on our Kickstarter Page.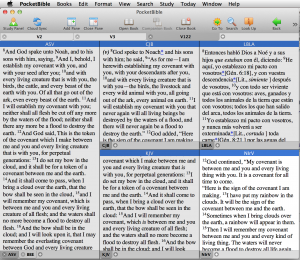 It's been a while since I updated you on our progress on PocketBible for Mac OS X, so I thought I'd do that here.
For those of you who don't follow us as closely as we'd like to think you all do, last summer we launched a Kickstarter campaign to fund the development of a Mac OS X version of PocketBible. The campaign was successful, so in August we started working on it.
We ran into some problems right away, as iOS 7 took a large percentage of our attention in September and November. And in October. And quite a bit in December. But I think that is behind us.
As you can see, there is some rudimentary functionality in place. I spent a lot of time up-front working on details of the user interface. I'm trying to build a sturdy framework on which to hang functionality. So it may seem like the program doesn't do much yet, and it doesn't. But there is a lot going on under the hood.
For example, all the shared C++ code that reads our Laridian Book (LBK) files has been imported into the program and is working great. You're seeing real Bible text being displayed. And the program is able to access our server to get a list of the books you own (well, currently, it always gets the list of books I own, but once I add some user interface so you can enter your own customer ID and password, it will get your list). It allows you to maintain multiple layouts so that you can configure one for devotional reading, one for sermon prep, one for Greek word studies, etc. without having to open and close books all the time.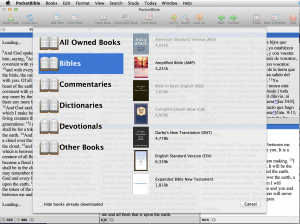 While implementing PocketBible for Windows Phone and Windows Store, we added a capability to download cover art for every book. I'm taking advantage of that in the Mac version to display cover art for every book when you go to download it, and again when you select a book to open. Cover art is downloaded in a "background thread" which just means it doesn't make you wait while it gets all those image files. It is cached locally so you don't have to download it every time.
The screen shot on the right shows the "Cloud Library" function where you see a list of all the books you own. Unlike the iOS version of PocketBible, the list is organized by type of book (Bibles, commentaries, dictionaries, etc.) to make it easier to navigate. Books you've already downloaded are dimmed, or you can check the box to hide them entirely.
The "Open Book" dialog looks very similar, except it only shows you books that you've already downloaded from our server and installed on your Mac.
The program will support the "type-n-go" feature of the Windows Desktop version. This allows you to simply type "John 3:16″ to go to that verse, or even type "find jesus" to find everywhere in the Bible "Jesus" is mentioned. I've implemented an early form of this feature, which is really handy for testing. That is, I can test my go-to-verse functionality before inventing a fancy book/chapter/verse chooser.
Even though a large percentage of the code is shared with PocketBible for iOS (developing for iOS and for Mac uses the same Xcode programming environment, Cocoa class library, and Objective-C/C++ programming languages), a lot of the design of the text display system will actually be ported from the Java code in our Android version. This means we'll be able to have continuous scrolling of the text, which we chose not to support in the iOS version.
Remember that we carefully construct our screen shots to hide all the bugs. Don't assume since you're looking at Bible text that the program is done. We think we're still on schedule but there's a lot left to do. I just thought I'd bring you up to date.
If you're a Kickstarter contributor but you have not been notified yet about your reward(s), please contact support@laridian.com and tell us about it. We think we've fulfilled all the rewards we can (obviously the program itself hasn't shipped) so if you haven't heard from us it means we must be missing you on our list.
We Made It!
Well, that was the most fun we've had in a long time!
We have been wanting to do a version of PocketBible for Mac OS X for several years. The problem is that we could never find any data to indicate that the market share for Mac was sufficient to justify the time and money we'd have to put into the project. Then earlier this year we had the idea to try Kickstarter to "crowd-fund" the project. This would prove to us that there was, in fact, a market for PocketBible for Mac, and would have the secondary benefit of providing funding for a portion of the project.
The trick was to select a funding goal that was high enough to make the project worthwhile but low enough that it wouldn't be unreasonable to reach. You can take a guess at what a project like this might cost without me divulging any confidential information by looking at the average salary of a contract Mac programmer for the 10 months or so we think the project is going to take. With salary, taxes, benefits, space, and equipment, a programmer costs about $90K-$100K per year. To make it easy, we'll use $96K ($8K/month), or $80K over the life of the project. Add our stretch goal of porting BookBuilder for Mac and figure there will be times when there will be a couple people working on the project and it's pretty easy to get to $100K or more.
We were concerned that $100K might not be a reachable goal. The problem with Kickstarter is if you set a $100K goal and reach $90K, you get $0. So we had to consider what the minimum amount of funding would be that would prove to us there was a market but be reasonably reachable. After adding the cost of rewards and the fees charged by Kickstarter and Amazon, we settled in on $28,500. At the same time, we hoped you would take us past that point to help offset more of the costs.
Over the last 40 days or so, we've been anxiously watching how you responded to this project. Our initial email garnered about $12K in pledges. The project slowly climbed to just over $20K during the next three weeks as we approached the Fourth of July holiday. We planned on hitting the project hard once the holiday was past and you came through for us in that last week, taking us past $28,500 on July 10.
With five days remaining before our funding deadline, we re-evaluated our goal and considered what it would cost to add BookBuilder Pro to the project. We thought another $5K would be achievable and would take care of a major share of the added cost to do BookBuilder.
At that time it also occurred to us if we had some rewards to benefit our non-Mac-using customers, they might be willing to help out. So we added some rewards to appeal to our current customers on other platforms.
So we set a "stretch goal" of $33,500. A Kickstarter "stretch goal" is an informal term that someone came up with to describe a funding goal beyond the original goal. Normally the project is expanded in some way in response to reaching the stretch goal. It took less than three days for you to get us past that goal.
Over the last couple days of the campaign we picked up those who were motivated not so much by reaching the goal, but by the desire to lock in low prices on the various PocketBible Library collections and add-on books. Many of you also increased your pledges during that time to add add-on rewards.
What Now?
Kickstarter will begin collecting your pledges immediately. If it has problems collecting, it will make repeated attempts to contact you and encourage you to make good on your pledge. They tell us this process takes a couple weeks. We are not involved in the collection process; it is handled by Amazon. Amazon does not release any funds to us nor does Kickstarter give us access to our final backers list until this process is complete.
Once we get our final backers list, we'll be contacting you to confirm your selection of add-on rewards. We anticipate this will take a couple more weeks, depending on how quickly everyone responds. Once this is complete, we'll fulfill rewards for add-on books that can be fulfilled without waiting for the completion of the project. (That is, the six add-on rewards consisting of add-on books for non-Mac platforms.) The rest of the rewards will not be fulfilled until the project is complete, of course.
Also at this point (that is, once funding is received) work will begin in earnest on the project. My plan is to post updates through Kickstarter for our backers on a regular basis, sharing progress with you as often as I can. I'll also be sharing updates here on the blog, though not as often.
When Will We See Alpha and Beta Test Versions of PocketBible for Mac?
"Alpha" versions of the program are not feature-complete and are used for the purpose of evaluating user interface concepts and testing some functionality of the program. "Beta" versions are feature-complete (or very close to feature-complete) and are intended for more practical testing of all of the features of the program.
At this point I can't say when those versions will be released, but I can say that distribution of alpha- and beta-test versions of PocketBible for Mac OS will be limited to our Kickstarter backers. As a result, I'll be making those announcements through Kickstarter in the form of private project updates.
Thanks!
So… we have a lot of work ahead of us. On behalf of everyone here at Laridian I want to thank you for proving there is a market for PocketBible for Mac, being willing to put your money on the line to fund this project, and for having faith in us to complete it successfully. We are grateful for those of you who have contacted us to encourage us and let us know you're praying for us. We hope to be found worthy of your trust.
While it may not be evident from the outside, there are certain philosophies, both of Bible study and software design, that strongly influence each of our Bible study apps regardless of platform. While we're not at a point where we can give a concrete demonstration of PocketBible for Mac OS, we can talk about how those philosophies will influence our work.
In no particular order:
You should spend most of your time in PocketBible wrestling with the Bible text, not with your Bible software. This means that frequently accessed functionality should be immediately available, and that you shouldn't have to deal with overlapping windows that obscure the text you're trying to read. You shouldn't be thinking about how to arrange things on the screen or how to access basic functions like navigating to a verse or creating a note, but instead be thinking about what you're reading and how it applies to your life.
While we should consider specific use cases and how they are served by our design, we shouldn't design around the use cases. We think a lot about all the things you might want to do with your Bible software, like search for a word, compare Bible translations, and view a commentary on a passage. This list of ways that you use our software defines a set of "use cases" (or "user stories").
Informally, a "use case" or "user story" is a combination of a specific goal ("User must be able to search the text for a given word or phrase") and a description of the steps or interactions with the program necessary to meet that goal. Programmers use these use cases as part of validating that their solution meets the user's requirements.
Some Bible software companies make the mistake of creating new user interface elements for every use case. In these programs, when you're in "search mode" the program looks and behaves differently than it does while just browsing through the text. When you want to compare two translations of the Bible, the second one pops up in a window that may obscure a portion of what you're reading, and which doesn't have all the functionality you have in your "main" Bible. And the only way to view a commentary might be to split your Bible window to show a commentary beneath it, with no consideration given to how you might open a second commentary or that you might not want to lose space for Bible text when viewing a commentary. And while you might consider "commentaries" and "dictionaries" to be just "reference books" and expect them to work similarly, the program might display dictionaries in the form of pop-up windows when activated for a particular word, covering other text and behaving differently than commentaries, devotionals and other reference books.
We will try to create a flexible user interface where, for example, search results, bookmark lists, lists of notes, and other "lists of verses" share a common user interface component or pattern, and where opening a Bible to compare to the current one is no different than opening a dictionary, commentary, devotional, or any other book. There's less to learn and there are fewer surprises.
PocketBible for Mac OS should not necessarily look like PocketBible for Windows, PocketBible for Android, or even PocketBible for iOS. While it should share a lot of design, algorithms, and even code with those platforms, it should look and feel like a Mac app, not a Windows app ported to the Mac or even an iOS app ported to the Mac. We like to take the best features of all our previous apps and combine them with fixes to the mistakes we made in previous apps and wrap them in a user interface that is consistent with the other apps on the target platform.
Mac users should not feel like they are being accommodated, but rather that Laridian considers Mac to be a primary platform for its products, and PocketBible for Mac a flagship product. We confess that we treat certain platforms as second-class citizens. For example, both our BlackBerry and webOS apps were "Bible only" apps, and neither shared the LBK file format used by our other apps. BlackBerry was primarily an enterprise (business) platform, and the future of webOS was always doubtful. This made it difficult to commit the time and money to those platforms that would've been necessary to really do them right. Mac OS is different. It is our intention to make it difficult to tell if we're "Mac people" or "Windows people" because of our level of commitment to both platforms.
PocketBible for Mac OS will focus on the needs of the 99% of Christians who are neither "clergy" nor "Bible scholars". Most of our customers occupy the pews on Sunday morning and work in secular jobs during the week. While many are Sunday School teachers or Bible study leaders and a few are pastors, most are simply everyday Christians with a love of the Bible. Some have some experience with Greek or Hebrew, but most don't do their daily devotional reading from the Greek New Testament. PocketBible for Mac OS may include resources like the Greek New Testament and meaty, scholarly commentaries, but its focus will be on concise, accessible works that help the average Christian understand and apply the teachings of the Bible in their daily walk. It's not that we have a disdain for the original languages, but rather that, as Bible software users and everyday Christians ourselves, we understand there are people out there who understand those languages significantly better than we do, and it's better, faster, and easier for us to read what they've written in English about the Bible than to depend on our own spotty and questionable original language knowledge.
Of course, the 1% of you who dream in Greek will want a different Bible study app. PocketBible may not be for you. We understand that; you're not our target user.
Given a choice, we will take functionality over complexity; usability over displays of our technical prowess, and simplicity over beauty. We're not trying to solve every problem in the field of computerized Bible study, but instead we're trying to provide a tool that can help you solve the most common problems you encounter in your everyday study of the BIble. We're not trying to flex our programming muscles to win your admiration, but instead give you something you can be expected to use and understand with minimal learning time. We feel that beauty is often only skin-deep; that simplicity and elegance are beautiful in their own way. You may find another girl who looks prettier, but PocketBible is the girl you want to take home to meet your parents and be with forever.
We hope this helps you understand more about how we think about Bible software and from there, maybe infer how that might apply to PocketBible for Mac OS. Of course you'll be seeing more concrete examples of these principles in practice as we begin to work on PocketBible for Mac OS — assuming, of course, that we reach our funding goal for the project on Kickstarter!