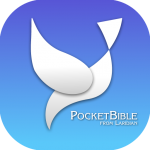 I'm looking to increase the number of beta testers we have working on PocketBible for iOS.
I have two areas of interest. First are those of you with the new iPads that support iOS 9 "Split View" feature.
Second are you die-hards still running iOS 7. Apple says only about 7% of you are still on iOS 7, so rather than test on iOS 7 I may just cut the cord and require iOS 8. It's possible that even with iOS 7 testers we won't be able to keep the program compatible. Apple makes it really hard to support "old" hardware and OS versions. And by "old" we mean more than 2-4 years.
We have some very specific rules for signing up. If you don't follow these instructions I will discard your application.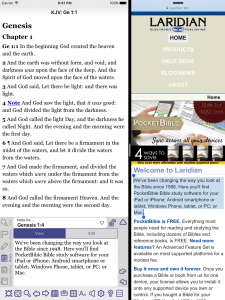 Early build of PocketBible for iOS 9 showing split view feature.
You need to be able to accurately find and send me your "unique device ID". Note that there are old utilities for doing this that will give you a wrong result. Don't use an app to find it. If it starts with "ffff", it's wrong. Here's a simple explanation of how to find it: whatsmyudid.com
Tell me what version of iOS you're using and what device you have. You must be running iOS 7 or later.
Send this info to beta@laridian.com with the subject line "iOS Beta"
I will try to respond to each person who applies. Apple limits the number of testers we can have, so I may have to reject some of you. Or I might not. That UDID thing tends to eliminate a lot of people, so we may not get many volunteers.

If you've been testing with us over the last few weeks already, there's no need to re-apply. I'm just adding people to increase our coverage on iOS 7 and 9.
I will pull this article when I get enough testers, so if this article disappears, we're full.
Thanks for your help!