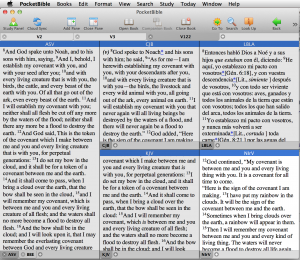 It's been a while since I updated you on our progress on PocketBible for Mac OS X, so I thought I'd do that here.
For those of you who don't follow us as closely as we'd like to think you all do, last summer we launched a Kickstarter campaign to fund the development of a Mac OS X version of PocketBible. The campaign was successful, so in August we started working on it.
We ran into some problems right away, as iOS 7 took a large percentage of our attention in September and November. And in October. And quite a bit in December. But I think that is behind us.
As you can see, there is some rudimentary functionality in place. I spent a lot of time up-front working on details of the user interface. I'm trying to build a sturdy framework on which to hang functionality. So it may seem like the program doesn't do much yet, and it doesn't. But there is a lot going on under the hood.
For example, all the shared C++ code that reads our Laridian Book (LBK) files has been imported into the program and is working great. You're seeing real Bible text being displayed. And the program is able to access our server to get a list of the books you own (well, currently, it always gets the list of books I own, but once I add some user interface so you can enter your own customer ID and password, it will get your list). It allows you to maintain multiple layouts so that you can configure one for devotional reading, one for sermon prep, one for Greek word studies, etc. without having to open and close books all the time.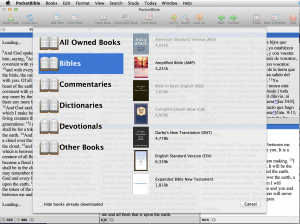 While implementing PocketBible for Windows Phone and Windows Store, we added a capability to download cover art for every book. I'm taking advantage of that in the Mac version to display cover art for every book when you go to download it, and again when you select a book to open. Cover art is downloaded in a "background thread" which just means it doesn't make you wait while it gets all those image files. It is cached locally so you don't have to download it every time.
The screen shot on the right shows the "Cloud Library" function where you see a list of all the books you own. Unlike the iOS version of PocketBible, the list is organized by type of book (Bibles, commentaries, dictionaries, etc.) to make it easier to navigate. Books you've already downloaded are dimmed, or you can check the box to hide them entirely.
The "Open Book" dialog looks very similar, except it only shows you books that you've already downloaded from our server and installed on your Mac.
The program will support the "type-n-go" feature of the Windows Desktop version. This allows you to simply type "John 3:16″ to go to that verse, or even type "find jesus" to find everywhere in the Bible "Jesus" is mentioned. I've implemented an early form of this feature, which is really handy for testing. That is, I can test my go-to-verse functionality before inventing a fancy book/chapter/verse chooser.
Even though a large percentage of the code is shared with PocketBible for iOS (developing for iOS and for Mac uses the same Xcode programming environment, Cocoa class library, and Objective-C/C++ programming languages), a lot of the design of the text display system will actually be ported from the Java code in our Android version. This means we'll be able to have continuous scrolling of the text, which we chose not to support in the iOS version.
Remember that we carefully construct our screen shots to hide all the bugs. Don't assume since you're looking at Bible text that the program is done. We think we're still on schedule but there's a lot left to do. I just thought I'd bring you up to date.
If you're a Kickstarter contributor but you have not been notified yet about your reward(s), please contact support@laridian.com and tell us about it. We think we've fulfilled all the rewards we can (obviously the program itself hasn't shipped) so if you haven't heard from us it means we must be missing you on our list.