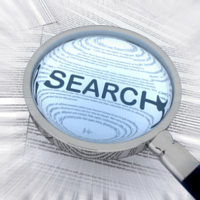 One of the main benefits of PocketBible is being able to locate things quickly in the Bible. The GoTo feature in PocketBible takes you directly to a specific book | chapter | verse in the Bible. For the times you don't already know the location, you have the Search feature. Just put in a few words or a phrase and PocketBible will present a list of possible matches.
But what if the item you are looking for is not actually mentioned in the Bible (e.g., Trinity)? Or there are different ways to describe it (e.g., marriage and betrothal)? PocketBible can get you there!
Finding the Un-Mentioned
When you know something is mentioned in the Bible but you can't find it with a PocketBible search for the exact word(s), consider using a topical Bible like Nave's Topical Bible (a free resource). Nave's leads you to the applicable Bible verses for over 20,000 topics. For example, a search for the word trinity will bring up zero hits in your PocketBible Bibles but exploring this topic in Nave's will lead you to dozens of related Bible verses.
Finding the Indirectly Mentioned
Sometimes a search will bring up some of the verses you are looking for or it may bring up different verses in different Bible translations. An example would be if you were interested in finding all the verses about marriage. If you use the Find feature to locate the word "marriage" in the NIV, you would find 46 verses. Search for it in the KJV and you find 18 verses. In the NASB, it's 32 verses. Why the difference? Each translation may use a different word or phrase to describe marriage for various verses. Instead of "give me the girl in marriage" it may say "give me the girl as my wife." Thus, the results of a word search will vary depending on the translation.
With a topical Bible, you are reviewing the entire topic of marriage without respect to how the verse is phrased. The topic of a particular Bible verse is going to be exactly the same no matter which Bible translation you are using. Even though the descriptive words may be different, the topic stays the same.
A topical Bible like Nave's presents topics along with all the related verses. The Nave's topic for "marriage" is further divided into 26 subtopics. Each sub-topic includes links to verses. And related topics such as divorce, husband and wife are also referenced and linked.
In addition to Nave's Topical Bible, the following topical Bibles and similar titles are available for use with PocketBible.
If you find Nave's or the other topical Bibles helpful in your studies, we'd love to hear how! Please share in the comment section below.