This is the original 1.4.0 announcement updated to mention features in 1.4.1 (released on May 26) and 1.4.2 (June 6). Updates are highlighted. If you downloaded 1.4.0 immediately after release, you'll want to select Check for Updates from the PocketBible menu and follow the instructions to update.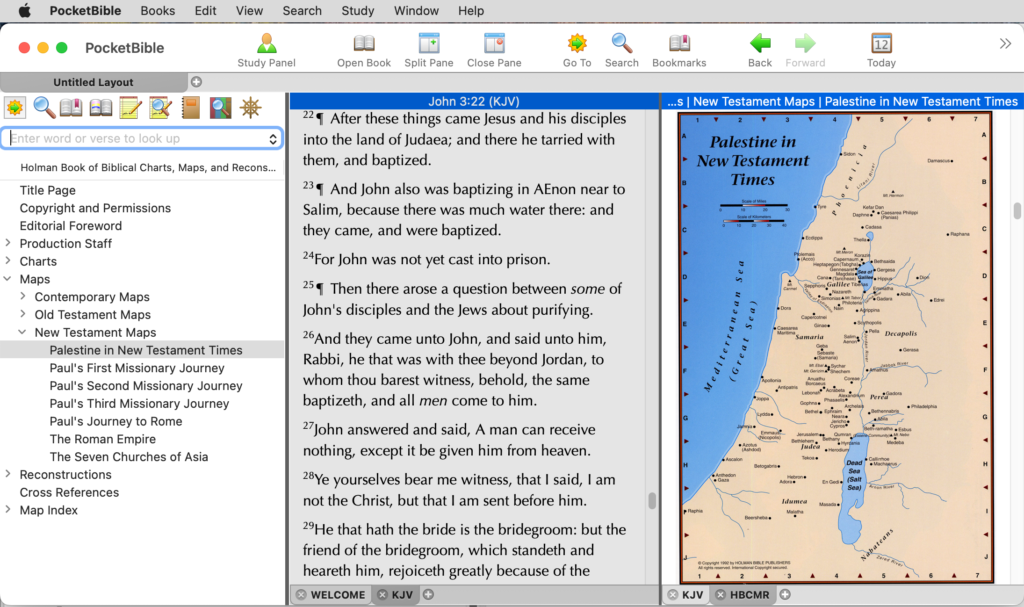 As mentioned a while back, we had to make some changes to our Bible format that required PocketBible on all platforms to be updated. The macOS version is the first of these, mainly since it shares a lot of code with the macOS version of BookBuilder, which also had to be updated, and was the easiest version of PocketBible to test the BookBuilder changes with.
While we were editing the code, we took a look at the to-do list and made a number of other changes. Here's what's new.
Bug Fixes
When macOS is updated, there are inevitable little changes to various behaviors that affect apps in unexpected ways. We resolved some unintended horizontal scrolling in Study Panel, Open Book, and Cloud Library lists and adjusted the height of some message windows to accommodate text that was being drawn a little differently and getting cut off. We also made some changes to a toolbar button that wasn't being drawn correctly. These still may be problematic in macOS 10, but they work a lot better in macOS 13.
When right-clicking on a Bible link, the Autostudy option on the context menu would sometimes do a word autostudy rather than a verse autostudy. We were able to fix that.
The third-party automatic update component we were using to install updates has always been flaky. We took this opportunity to remove it and replace it something simpler. Now you'll be informed when an update is available and given the opportunity to download it, but you'll have to exit PocketBible and complete the installation yourself. This amounts to opening the update and dragging an icon about 3 inches into your Applications folder. Much more reliable. It was only working about half the time before.
Enhancements
A few features were enhanced. The toolbar will look a little different due to changes in the way macOS handles toolbars. Because of those changes, 1.4.2 added an option (Settings > General) to control whether you'd like to adopt the new "unified" toolbar or stick with the "expanded" view from earlier versions. If you're still using macOS X (version 10), you won't see this option since the unified view isn't available in that version of macOS.
Link preview pop-ups now use the same text size as your books, which will make them easier for some users to read. In version 1.4.2 we added a small gap to the right of the link, between the link and the pop-up, to make it easier to move off the link and dismiss the pop-up.
We also built this version as a "Universal App" to support both Intel- and Apple Silicon-based Macs. Newer Macs may notice a performance improvement.
New Features
We didn't tackle anything huge because we have a lot of work to do on all the various versions of PocketBible, but we managed to squeeze in some new features.
Obviously, we implemented book reader engine 1.078 to support newer Bibles. You won't see any benefit from that for a while, but it's in there.
We expanded the types of links that will show a preview when hovering in both books and user notes. Previously, you would only see a link preview when hovering over a linked Bible reference. Now more types of links, including footnote links, will show pop-up previews. In 1.4.2 we added a half-second delay before popping up these previews so that you wouldn't be inundated by pop-ups as you move your mouse across the screen.
Added menu items and toolbar buttons to toggle the "Sync Bibles/Commentaries" feature and to do a one-time sync to the current verse in the active Bible. This allows you to assign a short-cut key to that function and turn off the automatic feature so that you have the flexibility to scroll your Bibles independently but to sync them all up when you want to. We also added that one-time sync feature to the right-click context menu when you click on a verse.
We added the ability to hide the "Note" link that appears at the start of a verse that has a note. You can also turn off your highlights, or only highlight the verse number. This is similar to how the iOS version currently works.
Many users are confused by the way PocketBible applies a light highlight to a verse or passage that is the target of a hyperlink. You now have the option of turning that feature off. (You might find it unnecessary now that the hover feature works on more types of links.)
Links to document fragments were added to notes. If you know what you're doing, you can add a tag of the form <a href="#name">see name</a> to link to a tag with its id value set to "name". This is only implemented in the Mac version, so the links won't do anything in the other versions of PocketBible until/unless it gets implemented there, too.
Controlling Location Sync
This is perhaps the biggest change, and was rolled out in 1.4.2. Users who have an active Advanced Feature Set subscription will have the option to control which of their Bibles and commentaries respond to changes in the active Bible. This will let you keep your commentary on the primary passage while exploring other passages with other Bibles.
Devotionals participate in a slightly different form of location sync. It's always been the case that when you tell any one devotional to go to today's reading that you can have all your other devotionals do the same. 1.4.2 added "first unread reading" to "today's reading" with respect to this behavior. If you ask any one devotional to go to its first unread reading, you can ask other devotionals to follow. This is handy if you're reading from more than one devotional book or reading plan each day. And if you have an active AFS subscription, you can control this on a pane or book level.
Dictionary sync didn't change, but 1.4.2 added the option to exclude particular panes or dictionaries from normal dictionary sync. Again, you need an active AFS subscription to take advantage of this feature.
Advanced Feature Set Enhancement
The changes to location sync, described above, apply if you own the AFS subscription. This is the first new feature we've added to the AFS since it switched to a subscription, so if you own the "permanent subscription to the legacy AFS" you will not be able to take advantage of this feature. You need a subscription to do that.
How to Upgrade
If you're running a version before 1.4.0, select Check for Updates in the PocketBible menu and choose the option to install and relaunch. If you have trouble with that, just go here and select the Download button. Download the file, find it in your Downloads folder, open it, and drag PocketBible into your Applications folder.
If you've already downloaded 1.4.0 or 1.4.1, select Check for Updates in the PocketBible menu and follow the instructions.