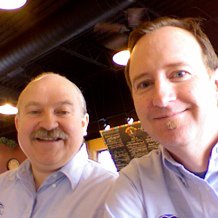 My friend and Laridian co-founder Jeff Wheeler passed away this morning, the victim of a rare and particularly aggressive form of cancer. He was 49.
Jeff and I worked together for 27 years at three different companies and founded Laridian together. The features that you love in QuickVerse and PocketBible and which you often praise me for were likely Jeff's ideas and his doing. If I didn't build on Jeff's foundation, he would dig me a new foundation while I was paying attention to something else. He was my sounding board and my reference library. While being all this to me, he still managed to deeply impact his family for Christ and touch others through his home school choir, his leadership in his local church, and his service to his denomination's state board.
Men like this do not pass this way often. Well lived, Jeff.