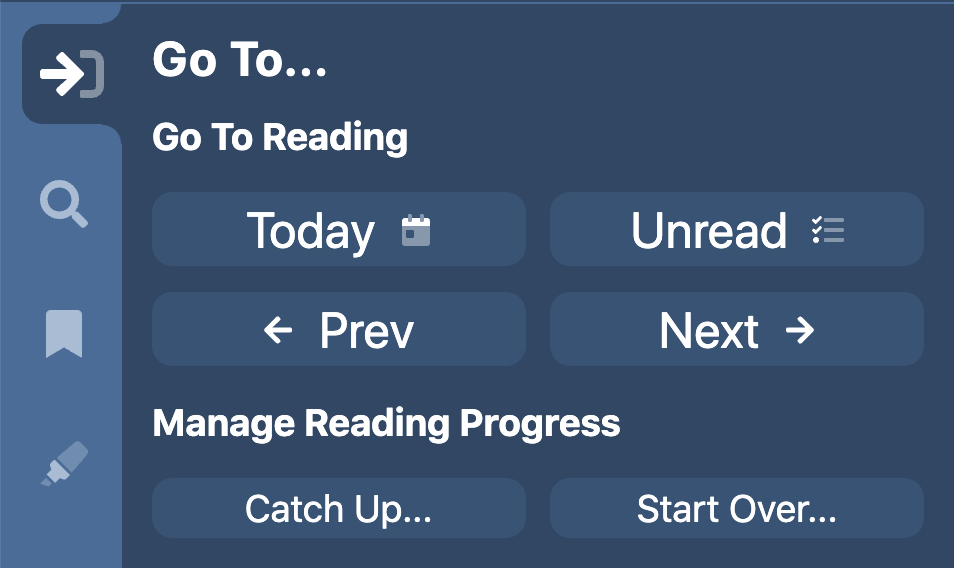 Christmas break and some changes in the availability of team members have taken a toll on productivity, but work continues on the app.
Navigating: The Go To Tab
A lot of time has been spent implementing what we call the Go To Tab in the Study Panel. It's where you go to navigate through a Bible or reference book. There are 3 different configurations of this pane. For Bibles, you have the ability to enter a Bible reference or choose book, chapter, and verse from drop-down lists. In addition, a list of your most recently visited verses is displayed.
For devotional books, the main interface is the ability to navigate to the first unread reading, previous and next readings, and to the reading for a specific date. A list of readings that are highlighted to indicate whether or not you have read them is displayed. Functionality is provided to "start over" on a devotional by setting the start date and clearing your existing reading progress data. Related to the implementation of the Go To Tab for devotionals is the ability to click on a heading over the reading for a given date to mark that readings as "read" or "not read".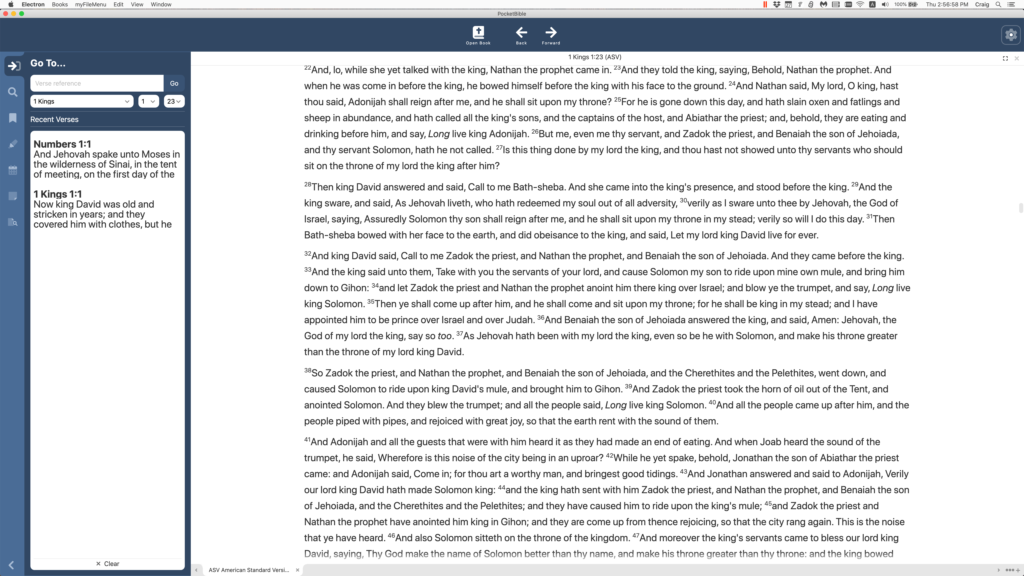 For all other books, a hierarchical table of contents is displayed, and your current position in the book is highlighted.
Study Panel and Toolbar Position and Size
While we were working on the Study Panel, we made it so you could have it positioned on either the left or right side of the screen. (You've seen it on the left side in every screenshot to date.) We also save the width of the Study Panel and allow you to double-click on its border to rotate between its minimum width, the width you've set it to, and its maximum width. This is in addition to being able to either show or hide the panel.
Related to the position of the Study Panel, we also made it so you can display the toolbar either at the top or at the bottom of the screen. We think this might be handy when using PocketBible on a Windows tablet. While doing that, we made both the toolbar position and contents persistent (saved in your user preferences).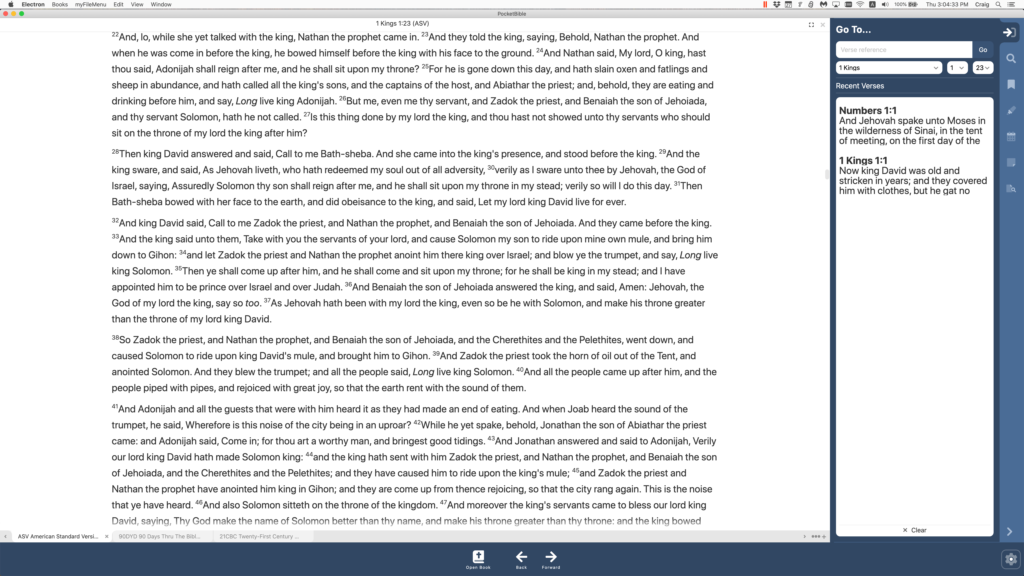 Navigation History
We spent some time on a rough implementation of what we call "navigation history". This is the data that lies behind the "back" and "forward" buttons on the toolbar. This is significantly more difficult in PocketBible than in something like a browser. In a browser, your back/forward buttons take you through the history of the current browser pane or window. PocketBible can have multiple panes and multiple books open in each pane. The history database needs to keep track of all of that.
We call this a "rough" implementation because there are a lot of places in the code where we need to "capture" history because the position is about to change. Further, there are a lot of places where we don't need to actually capture history but we need to somehow mark the book or pane as "dirty" and in need of being saved. We believe we have identified most if not all of these places. Further testing is required.
A Few Smaller Things…
The ability to highlight a word and right-click to look up its definition is implemented.
The search field now displays a list of recent searches.
You can specify a range of verses to search when searching a Bible.
The range of font sizes you can select has been expanded.
We spent a lot of time (and continue to spend a lot of time) working on internal, non-user-facing elements of the code. Some of these are to accommodate updates to third-party libraries used by the app. Others are to flesh out implementations that were started with the idea we'd finish when we knew more about what they needed to do. Some are tweaks to the user interface that we're getting around to as we pay attention to different aspects of the program.
Schedule
I have a hard time coming up with different ways of saying "we'll be done when we're done". We go through periods where we make a lot of progress and others where we have a problem we just can't figure out and get past. As I've said before, we don't work with a specific release date in mind. We just keep working our way through the list.
A few of you have offered suggestions. We appreciate but can't always implement those. That being said, the reason the toolbar can be moved to the bottom of the screen is because a PocketBible user asked us if we could do it. We had one false start that led us to believe we couldn't, but then we backed up and took another run at it and the result is what you see above. So if you have suggestions, feel free to pass them along either here in the comments or to tech support. We are locked into some decisions but will always think and talk about good ideas, regardless of the implications.